I
Please click here for a virtual tour! To book an 'in person' tour in November, please call the school office after October Half Term.
Please note our new telephone number: 01273 099854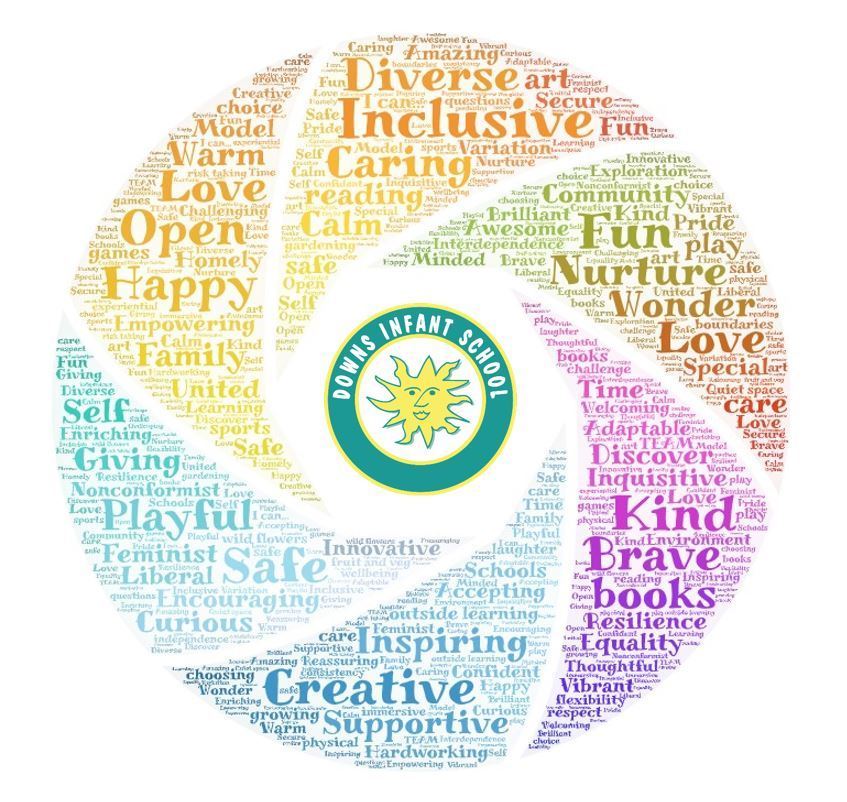 Welcome to Downs Infant School
Whether you are a parent, child, friend, neighbour or visitor, we want you to feel welcome and valued at Downs Infant School.
Our Vision
Our vision is to create a welcoming and inclusive school community where children can be happy and excited about their opportunities. We want to give children a voice and a feeling of worth. We nurture a culture of wanting to learn, and an 'I can do it!' attitude.
Mission Statement
We do this by:
· Ensuring children feel cared for, and teaching them to care for others.
· Providing creative opportunities for children's learning in all areas.
· Greeting children's achievements and efforts with enthusiasm and encouragement.
· Welcoming and celebrating the diversity in our school community while challenging stereotypes and assumptions that might limit ambition for our children.
· Giving all children a voice through class circle times, a school council, and a staff team who listen.
· Relentlessly championing the needs of the most vulnerable in our community.
· Working in partnership with our local community, including our parents and carers.
· Thinking outside the box and trying new things for the benefit of our children and families.
Values (Our A, B, Cs)
Ambition, Belonging, Creativity, Diversity, Empathy, Flexibility
Learning Heroes
| | | |
| --- | --- | --- |
| Incy links to ambition and flexibility 'I can do it!' 'I can find a way!' | Busy and Buzz link to belonging and empathy 'I can work with others.' 'I can listen to other people's points of view.' | Wonder links to creativity and diversity 'I wonder why…?' 'What if…?' |
If you are a parent and have questions about your child's education, please talk to your child's teacher in the first instance – this is the person in school who will know your child best.
If you are looking for a place for your child, please contact the office who can advise on visits to the school.
For information about Special Educational Needs and Disabilities, please contact our SENCo, Jon Hughes on 01273 099854 or via the office.
If you would like printed copies of any information contained on the website, please contact the office, who will be able to provide these.
As a welcoming, inclusive school, we take our responsibilities to promote equality very seriously. We are committed to ensuring that no-one in the school community is treated less favourably for reasons of their age, disability, gender, race, religion or belief, sex, sexual orientation, marital status, pregnancy or maternity.

If you would like a paper copy of any of the items on the website, please contact the office.